Have you ever worried about the loose hanging arms that seem to bulge out of your sleeves, waiting to be noticed by others? Have you ever thought how to get toned arms at home as hitting the gym daily is not your cup of tea? There are many people waiting for the extra flabby layer to disappear magically, and then there are some who are toiling it out in the gym to get those perfectly tight, strong and toned arms.
Here are a few ways to get perfect toned arms in 2 weeks –
1.

Swinging Arms
Swinging arms in complete circles is a great way to tighten the muscles at home. Do it 100 times clockwise and then repeat it anti-clockwise. This will help your arm muscles tense up and become tight. Doing it daily will soon sculpt your arms in the desired way.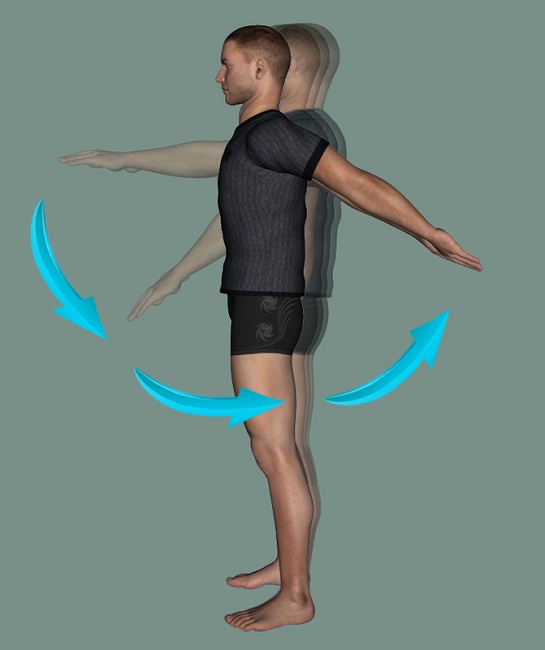 2. Box Pushups
Place both your hands on the floor a little ahead of your torso. Your hands should be perpendicular to the body. Lower body starting from the knees should be on the floor. The torso should be in the air.
Bend your elbows and slowly lower your body towards the floor, keeping your abs tight and your back straight. Then press forcefully back to the starting position, coming to a full extension of your arm muscles. All the pressure should be on the arms.
Beginners should do 2 sets of 20.
Suggested Read: 10 Workouts For Women to Get Perfect Toned Body
3. Bed Squats 
A little twisting of the conventional bed squats can be done to enhance the arms. Sit on the floor facing opposite of the bed's side. Place both your hands on the bed behind you. The torso should be perpendicular to arms, and the legs should be perpendicular to the torso. Knees should be straight. Maintaining this position, slowly contract your arms and the body down. Do not touch the floor. When you retract the arms gradually, the body will come to its original position.
Two sets of 10 are enough for this exercise.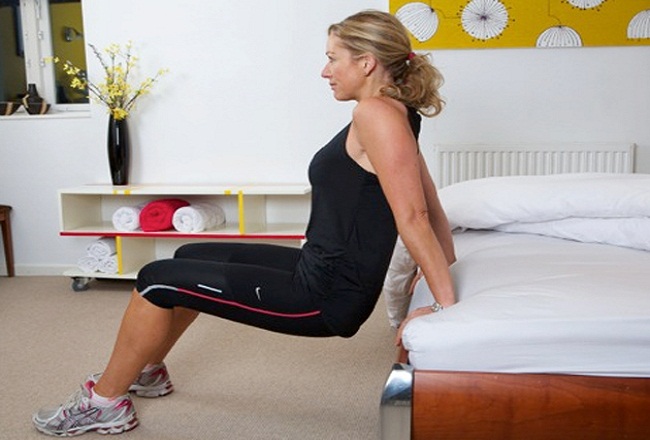 4.

T

riceps' Workout
This workout involves holding dumbbells in both hands. If you don't have access to dumbbells, you can do this exercise with 1 kg bags also. First, hold the bags/dumbbells close to each other keeping your arms straight. Then raise the weights directly above your head, keeping the elbows straight.
From that position, keep your elbows fixed in one position. Take the weights behind your head, a little away from the neck. Then bring them back, right above your head. Repeat this.
Two sets of 20 are apt for beginners.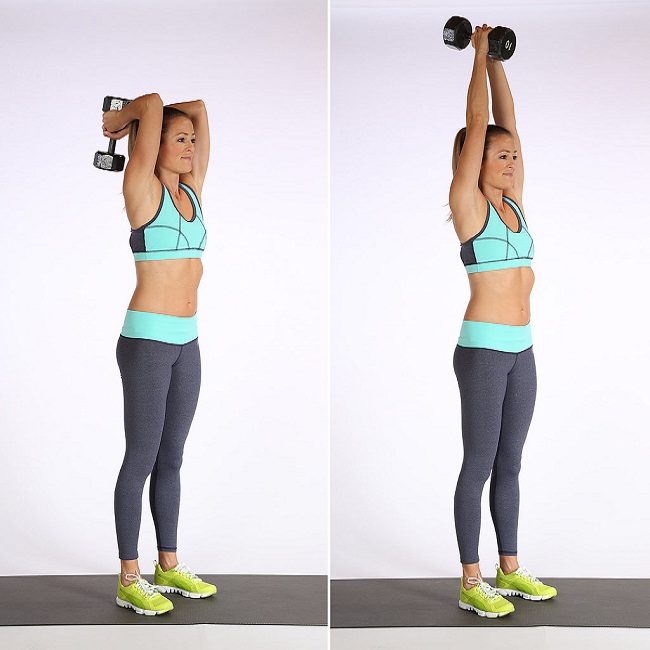 5

. Bice

ps' Workout
This workout too can be done either with 1 kg bag or dumbbells. Stretch out both the arms downwards. Then, slowly, move the forearm upwards in such a way that the muscle contracts completely, while the elbow stays in the same position. Slowly bring the hands back to their former position. This will lead to the tightening of arm muscles.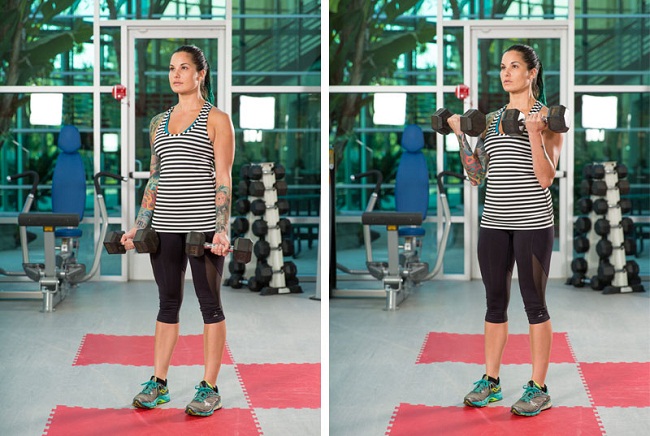 6.

Sh

adow Boxing 
This is a replica of actual boxing, the only difference is that it is done without punching bag or boxing gloves.
First, stand with one leg a little ahead of another. Bend your knees and tighten your fists. Then, spring up and punch in the air with your right hand. Hands should be tight and arms should be firm. Repeat it with the left hand.
7. Gym ball
Exercise ball or gym ball can be great for toning arms too. A great way to tone arms is to lay down straight on the gym ball. Balance on the ball by keeping your hands on the floor with arms straight. Try balancing on the ball in this position for as long as possible. There will be a lot of pressure on the hands. It will make the biceps stronger.

8. Flexed Arm hang
Hanging on a rod is also a great way to strengthen arm muscles. Women can just hang on the rod for as long as they can, and men can do pull-ups on the rod to get toned arms.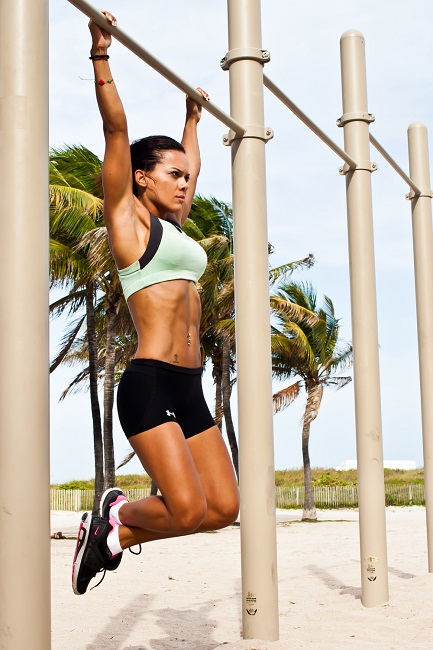 So do not hold back yourself anymore from getting those enviably toned arms. With these moves shape up your flabby arms and get the confidence to move out in your favorite sleeveless or off shoulder outfits with full might.
Related Articles
17 Ways to Tone Your Arms Super Fast