New Year comes with new resolutions. Every year we all decide to make our life more healthy, to adopt healthy habits and to be more positive. But in no time, most of us forget our resolutions (because most of them are really tough to follow) and get back to normal day-to-day life where we are so busy with our work schedule that we forget about our health & hygiene. And even if we do take care of ourselves, oral hygiene is still something which lacks our attention. So I will discuss the IntelliDent Toothbrush Shield which I have used recently and how it will boost your oral hygiene.
According to WHO, 60-90% of school children and 100% of adults worldwide have dental disorders or are in risk zone of dental disorders. It can be anything, foul mouth smell, tooth decay, bad taste or anything. Talking about boosting your oral hygiene, it is not only related to how much you pay attention to your mouth but also, how much you pay attention to your dental devices which include toothbrush & tongue cleaner.
Research shows that open toothbrushes which get contaminated with bacteria can lead to severe oral diseases. Brushes kept near the toilet seat becomes home for bacteria because of toilet flush which spreads micro bacteria in the air. Not only this, brushes also get contaminated if kept together in a cup.
To prevent all this, plastic caps landed into the market which protects the toothbrush head in a way that no micro bacteria can reach the brush for contamination. But, these plastic caps are giving rise to another major issue regarding toothbrush contamination. They don't absorb moisture which gives bacteria a scope to proliferate.
IntelliDent Toothbrush Shield
According to IntelliDent – A "Women Owned" oral hygiene product manufacturing company, plastic caps leads to toothbrush contamination because they don't absorb the moisture which causes bacteria to rise. After all this research, they have invented the IntelliDent Toothbrush Shield, disposable toothbrush shields which are made from non-woven fabric.

About IntelliDent
Founded in USA in 2009 and launched their first toothbrush shield in January 2011. They had partnerships with Walgreens and other major drug store retailers in 2011. After the huge success of toothbrush shield. They launched the Mouth Guard Shield in 2014. In 2015, IntelliDent Toothbrush Shields were available at over 3,000 Walmart Stores nationwide.
IntelliDent Toothbrush Shield Claims to:
Be breathable with quick drying ability that acts like a surgical mask for your toothbrush.
Provide a 99.9% effective barrier against the surface and airborne bacteria, according to the laboratory tests.
Be an ideal replacement for those traditional plastic caps and holders that trap and breed bacteria.
Be ideal for travel, home, work and everywhere in between.
Be disposable and effective up to 7 days.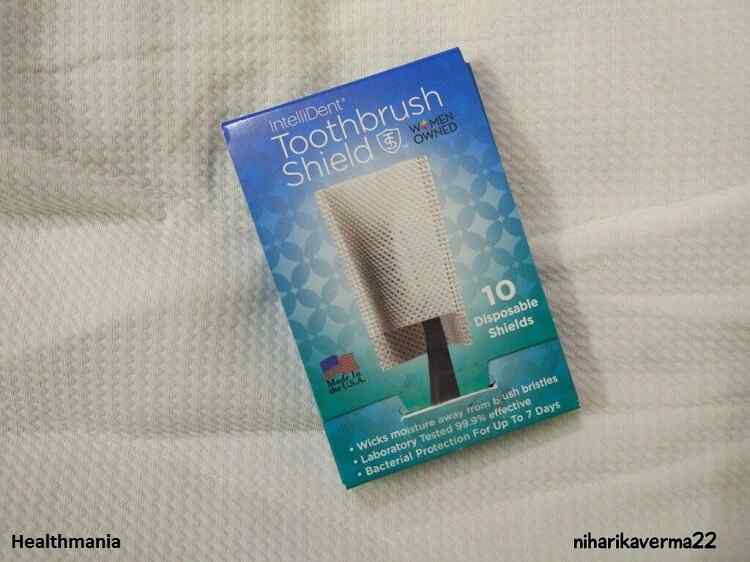 Who thought about this revolution in oral hygiene. These shields come in standard sizes which are not so loose. They actually hold up the toothbrush head tightly to make it more effective. The material absorbs the moisture from bristles which prevent toothbrushes from getting contaminated and they are travel-friendly too.
According to IntelliDent Products, studies show an exposed toothbrush is subject to multiple surface and airborne microbes. Your toothbrush is at risk for contamination when stored in a shared cup or holder with other brushes, enclosed in a dark space that can breed germs, such as a medicine cabinet, or stored in close proximity to a toilet, which can contaminate within a six-feet radius.
How to Use?
Open Package
Place shield over toothbrush head
Use for up to 7 days, discard and replace with new hygiene shield.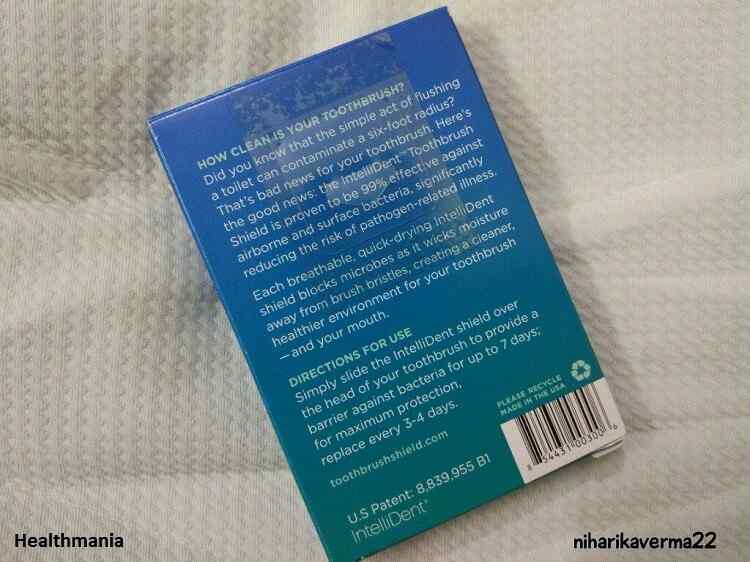 Strong fabric material protects it from any wear and tear. The shield causes no discoloration even after 5 days. If your brush size is larger then the regular, you may have noticed a change in the shape of bristles. Protecting your brush with the shield from the day 1 helps the bristles to stay in shape. The length of the shield is long enough to cover the major portion of your toothbrush. Now with this, you can store all the brushes together in one stand.
Oral hygiene is something which needs special attention. Especially today, when majority of the population is affected by junk food habits and bad digestion system. Oral diseases not only affect the mouth area but also effects the complete body system. This can cause hair loss, low metabolism, liver diseases, stomach ache, headache and lot more minor issues. Protecting your dental devices from getting contaminated plays 50% of the role in oral hygiene and good lifestyle plays rest of the 50%.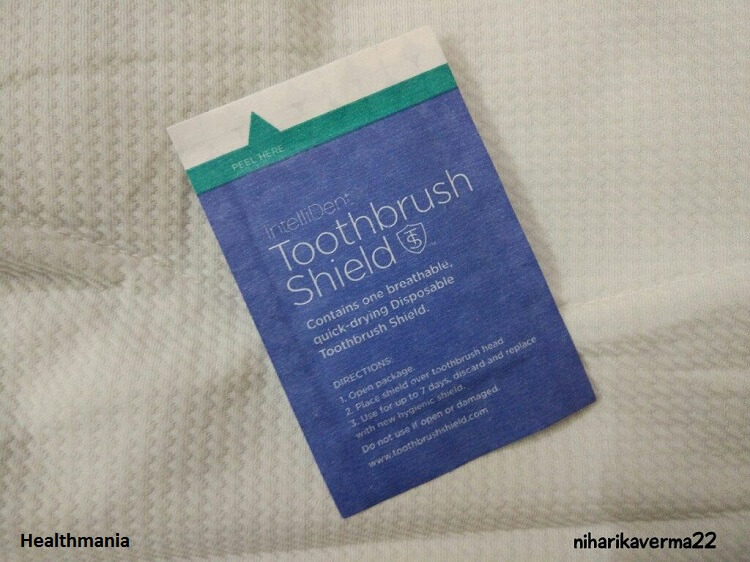 IntelliDent Mouth Guard Shield
Apart from toothbrush shields, there is IntelliDent Mouth Guard Shield which is much larger and spacious to protect your tongue cleaner and dental devices. This too is made from the same technology and is travel-friendly. The only difference between the toothbrush shields and the mouth guard shields is of size. Toothbrush shields are smaller to secure the toothbrush head tightly and mouth guard shield is made to secure large and space occupying mouth guards or other dental devices.
Using the same technology as Intellident Toothbrush Shield, the Intellident MouthGuard Shield protects your athletic mouth guard, orthodontic retainers and most of the other dental appliances.
It replaces plastic covers and containers which are breeding grounds for harmful bacteria.
MouthGuard Shield absorbs moisture and provides a barrier from the harmful bacteria that lie in locker rooms, community living spaces, dormitory rooms, or while travelling.
Pros
Effective
Disposable
Travel Friendly
100% true to the claims
Laboratory Tested
Healthy Protection
Cons
Price
As these shields are Made in the U.S., they are costly in Indian Markets and cheapest in American Markets. They are available for only $2.5 to $10 on QVC, IntelliDent.com or in Wallmart and for Rs 1799/ to Rs 5000/- on Amazon.in (India Price). One pack of toothbrush shields contain 10 disposable shields which mean 10 weeks of protection.
Find IntelliDent Toothbrush Shield on Amazon:


So this year start something new. Take a good step towards a healthy lifestyle and boost your oral hygiene with the IntelliDent Toothbrush Shield and Mouth Guard Shield. Not only with the toothbrush shields but also with your diet and daily habits. Try to cut down on foods which are high in sodium. There is a saying "Everything beyond a limit is dangerous". Similarly, even good things can be bad if taken beyond a limit.
Have a balanced diet which includes the intake of all the nutrients in a balanced proportion. Our organs and nerves are all related to each other. A problem in one organ affects the other. Maintain a healthy diet lifestyle and see yourself a positive change in you.
Sharing is caring, so share this information with others to help them benefit and also, we would love to have your views on the product in the comment section 🙂
Related Articles: