Winter is here, which means your skin needs a little bit of extra, extra hydration, nourishment and extra care. But in Winters, we all become dry skin beauties. Isn't it? Whether we have dry skin or oily, winter dryness affects all. And when it comes to exfoliation, you need skin nourishment too.
Body Polishers are not exactly the same as Body or Facial Scrubs. Scrubs are meant to be just for exfoliation. But Body polishers leave a buttery layer along with exfoliation. You can easily make body polishers at home by just mixing sugar crystals with a massage oil. There is a huge variety of body polishers. But which one is effective? Don't worry, keep reading and you will find answers to all your questions 🙂
These days, everything is going organic and the organic industry is gaining hype. People now are very well aware of the harmful effects of using chemical based products and when it comes to skincare, they want to choose the best product. Products which say chemical-free or paraben-free attract more customers as compared to those which just give a "Brand Name". Paraben is a chemical which is used in cosmetics to increase their shelf life and is harmful to your skin. So, whenever you are in search of a skin care product, go for paraben-free and sulphate-free products.
It's good to see that brands are creating awareness regarding chemical free products. Products which are made from natural ingredients and are free from animal byproducts, also known as Vegan Products are gaining more importance these days. A product is said to be vegan when it is not tested on animals and does not contain any animal fat or skin. So, go for Beauty Without Cruelty.
Neemli Naturals Shea Butter Body Polish
Neemli Naturals is a brand launched in India in 2015 and since then, their mission is to provide healthy skin care options. All their products are herbal, chemical free, vegan-friendly and made from 100% natural essential oils. Let's have a look at one of their beauty product that I have used recently, Shea Butter Body Polish, which is all natural and comes in "Handmade Products".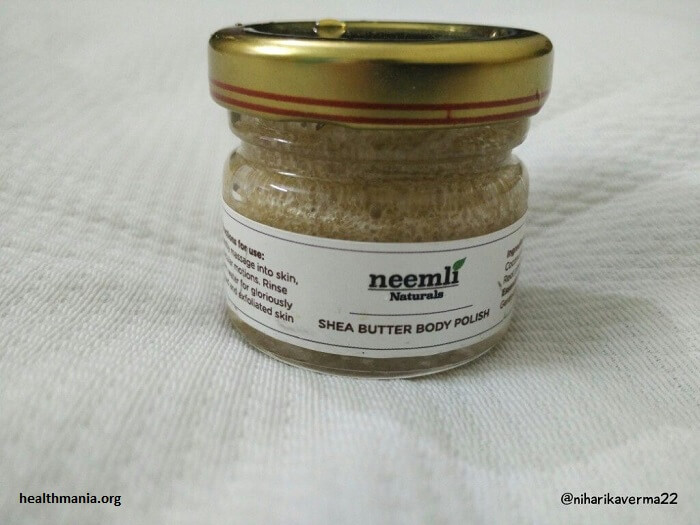 What the Product Says:
Shea Butter Body Polish is an indulgent buttery natural sugar body polish for smooth, exfoliated and moisturised skin. With added benefits of 100% natural rose and sandalwood essential oils with Shea Butter, it is a perfect ingredient to pamper your body. It can be applied on the face as well as on the body.
Ingredients: Shea butter, Olive oil, Coconut oil, Raw organic Sugar, Arrow Root powder.
Essential Oils: Rose, Sandalwood, Geranium, Lemon.
Price: Rs.950/- for 25 gms.
How to Use?
Simply scrub it with gentle and circulation motion giving a light massage to your skin. Wash off with warm butter to get the moisturised and exfoliated skin.
It comes with a glass tub packaging with a golden lid at the top which is not very tight. You have to handle it with care because it has a glass body and not so tight lid. It has a sweet fragrance like you've mixed all the natural sweeteners such as sugar, sugar cane, Jaggery and all sweet stuff together. It is loaded with sugar crystals to give your skin an advanced level of exfoliation. This is not a mild scrub, not at all.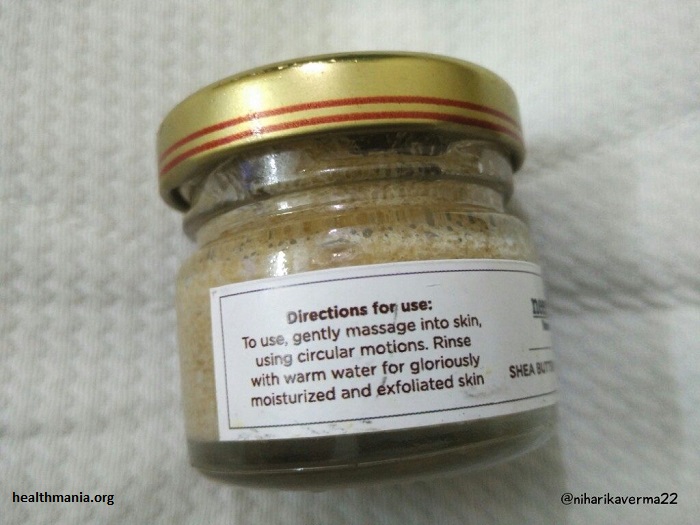 For Facial Use
Facial skin is one of the most delicate and sensitive areas in our body and gets infected easily as compared to other body parts. While using this body polish for face, you have to take utmost care because sugar crystals can be very harsh for sensitive skin. Take out just a pea sized amount and start scrubbing your face with soft and light circulation motion. Make sure your face is all wet and you are not doing it vigorously as doing so may lead to rashes on your skin.
Keep massaging your face with this scrub/polisher and you'll feel the oily layer on your face while exfoliating. After 5 to 10 minutes of massage, wash off with warm water and you'll notice a waxed or buttery layer on your skin. We know that feels good on legs and arms, but not on the face. To remove the butter layer, wash your face with a mild cleanser and you are all set to flaunt your glow.
You'll notice a visible difference in your skin. All your dead cells will get removed and skin will be free from any dullness and whiteheads. You won't need any extra layer of moisturiser as it already contains massage oils to stimulate the blood circulation and increase the moisture absorbing process. Your skin will be more soft, supple, tight and even toned, from the first use itself. As mentioned earlier, this is not a mild scrub, use it only once in two weeks.
For Body Use
Body Polishers are considered best for preparing your skin for a home shaving experience. Either Epilating or Shaving, your skin need extra nourishment to avoid ingrown hairs or itchiness, especially on legs. Everyone who uses at-home hair removal options can relate to post-hair removal itchiness and redness.
Body polishers exfoliate your skin first to open all your pores and then leave an oily layer to protect your skin from nicks and cuts while shaving your legs. Using a body polisher before shaving will lead to reduced itchiness and redness, in-fact no itchiness at all in some cases.
Not only for shaving, but in general, body polishers considered best to give yourself a spa experience at home. Even in salons, body polishers are used to prepare your skin for further spa treatments. It varies from person to person how they feel with that layer of oil after exfoliation. Some are OK with this, but some don't feel comfortable having an oily layer on their skin, especially those who have oily skin. But during Winter season, oily layer on the skin not only gives a natural shine and act as a highlighter but also prevents your skin from getting dry and rough. Just like you feel after salon spa services.
Pros
Handmade
Chemical Free
Made from 100% Essential oils
Radiant Glow
No skin irritation
True to the claims
Cons
Price
Availability
Glass Body (risky)
No Tight Lid

So this season, give yourself a chemical free skincare treatment with the Neemli Naturals Shea Butter Body Polish and enjoy the aroma of this handmade product.
What products do you use to keep your skin hydrated and moisturised? Share it with us in the comments. 🙂