Summer months especially can be testing for us Indians. A joke by the comedian Russell Peters goes, "God played a cruel joke by putting the hairiest people on the hottest place on earth!" We get scorching sun, heat waves, droughts, humidity and all the health problems associated with it. We constantly bank on air conditioners to cool down. Although it brings quick relief, it also burns a hole in the electricity bill and of course in the environment. So it is really important to keep your body hydrated and if you can do it with delicious, easy-to-make, homemade drinks to beat Summer heat, it can't get better than this.
Before starting with our recipes, let's see what tips Lalu Prasad has in his kitty to beat the heat this scorching Summer:
Some Refreshing Drinks To Beat Summer Heat
The other way to cool down your soul and body in this scorching heat is having a glass of refreshing summer drink. Here are a few homemade recipes, quick and easy, to make drinks to beat summer heat that'll give you that extra bit of energy after a hot day. Forget aerated drinks that just add carbon dioxide to our body.  These drinks are made from fresh fruits and yoghurt. You can make them in big batches, store in your fridge or carry them with you to work or school.  A quick, economical, simple and refreshing solution to beat the summer heat.
1. Cucumber Cure 
My granddad had a special saying for the humble cucumber, "din mein heera, raat mein peera!" (which means cucumber when eaten in day, does wonder, but is harmful if eaten at night as it could cause digestive irritations during hours of sleep).
To make this recipe:
You need one cucumber peeled and sliced into discs.
Lime/lemon cut into thin discs.
Mint leaves and rock/black salt (if you like your lemonade sweet, add honey or sugar).
Put them in a jug or a bottle and Shake it up.
You could even blend all the ingredients together. Cucumber is a natural detoxing agent while lime and mint add bursts of freshness. Black salt, on the other hand, has immense health properties. Do not keep it for more than two days. Also, it makes for an instant cucumber salad.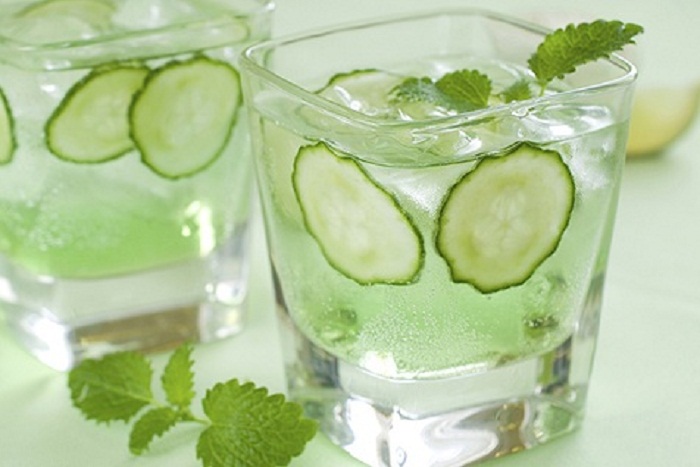 2. Chaach/Chaas
This is made from buttermilk and mostly found in Northern parts of India. This is a simpler version made with yoghurt.
Add three tablespoons of yoghurt, lime juice, rock salt, few cumin seeds/powder, coriander and pepper to a bottle or jug.
Add ice cubes and plain water.
Mix well and enjoy.
Now pepper actually has cooling properties. Remember chilli burns and pepper cools. The bacteria in the yoghurt helps the digestive system by cooling it down and helping metabolism. You can make it thick like a 'lassi' or watery according to your preference.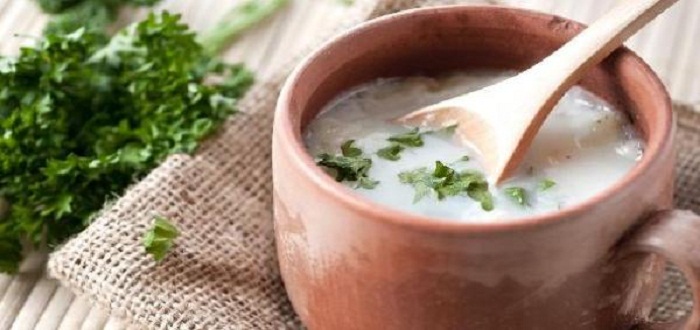 3. Ginger and Honey Infused Green Tea
Morning tea is essential. It just is. Let's try a healthier option than the normal milk and sugar tea. Green tea helps metabolism but it also freshens up the nerves. Ginger aids metabolism and increases immunity.
Add a few slices of ginger, and a teaspoon of honey to a cup. You can adjust ginger and honey to suit your taste.
Add water and heat in the microwave.
Add your green tea bag and steep but don't throw the bag away; just keep it in the fridge to use for your next batch of tea.
You can even make a cold batch by adding ice cubes mint and a dash of lime.
4. Oranges and Lemons Sold for a Penny
That's a nursery rhyme I guess. But the drink is freshly squeezed orange juice with mint and honey. Citrus fruits have acid which helps cleanse the system. It aids digestion and is very good especially for the summer. Don't waste your money on the Packaged Juices that just have artificial sweeteners in them.
5. Watermelon Shooter
If you have a juicer, life just get really easy. But do not worry if you don't have one, just buy some muslin cloth.
Crush the watermelon pieces and put them in the muslin cloth with cardamom, mint, rock salt and lime.
Tie it into a bundle and hang it from the tap of your sink.
Put a bowl underneath to collect the clear liquid.
Put the liquid in a jug or bottle and voila! Or you can make a juice with chunky pieces of watermelon in it. Go rustic with it. Watermelon is rich in vitamins and minerals; it has anti-inflammatory properties, aids blood flow and is good for the heart.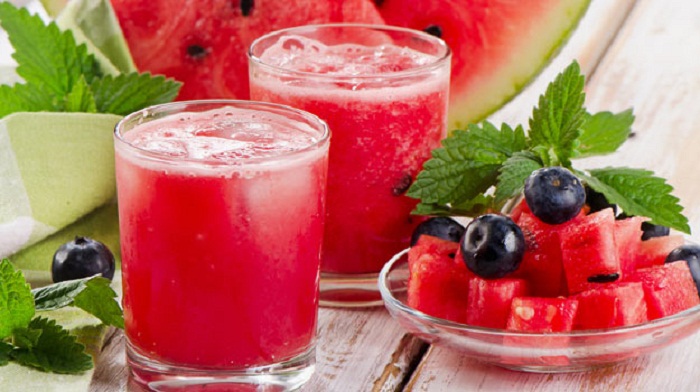 So these are the five quick and easy to make drinks to beat the summer heat. They make you feel light and you can have them at any time of the day. With the increasing pollution, work stress, family stress, these drinks help you cool down. It's like your very own spa treatment for the nerves! You have another advantage of these being cheap.
Some DO'S and DON'T'S-
If you have been out in the heat for some time, do not drink a chilled glass of anything. Have the juice at room temperature. A chilled glass will just shock the body and you'll end up with a cold.
After school or work,

do not

directly go into an A/C room. Sit under the fan for 5 to 10 minutes. This allows your body to cool down and get back to its normal temperature.
Avoid fizzy carbonated drinks. They don't even provide your body with natural sugars. By giving you what you think is energy, they just eat up the oxygen from your muscles. This is why sometimes after having aerated drinks you might end up feeling really thirsty. Sugarcane juice, chaas, nimbu paani or lemonade are much better, fresher alternatives.
Hope these easy-to-make recipes of drinks to beat summer heat will help you enjoy every bit of this season. If you have certain recipes which you think can add value to the readers, do share it in the comment box below.
This summer Go simple, Go Fresh!
Related Articles: