Taking care of our feet is as important as taking care of our facial skin. No one likes having dry skin around heels & visible cuts. But somewhere between our hectic work life, we often neglect these things. There are a lot of ways of doing pedicure, some go for regular spa while some prefer at home remedies. But with Fuschia Peppermint Pedicare cream, you just need a few minutes of your day and within a week you'll notice smooth, soft & feather touch feet 🙂
Fuschia Peppermint Pedicare Cream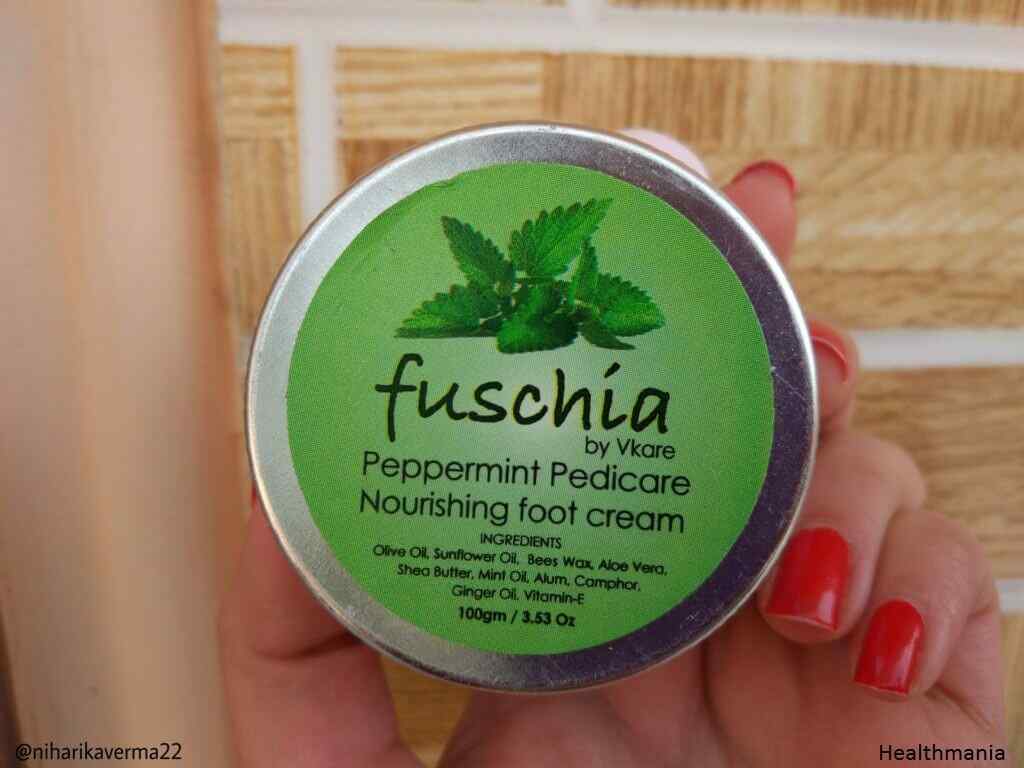 About Fuschia
Fuschia is an SLS & Paraben free skin care brand from Vkare.
Vkare Bio Sciences Pvt. Ltd. offers products in the area of Healthcare and Biotechnology, and help customers find answers and results they need in an efficient, transparent and flexible way.
Their products are free from synthetic fragrance. Their core philosophy reflects in their motto "We Care". The organization is dedicated to the commitment of quality products and customer service. Their belief is to develop strong and long-lasting relationships with their customers and an improved healthcare to all. The values on which the company was founded have always inspired growth and will continue to do so in times to come.
Their collection includes everything from face care to under eye, bath salts to body lotions, lip balm to face masks. You can check out the complete range of products of Vkare.
Today, I would like to share my experience with one of their most loved pedicare cream "Peppermint Pedicare Nourishing Foot Cream".
Product Description
Rich in nourishing Shea Butter, Fuschia Peppermint Pedicare Cream is full of natural soothing ingredients which moisturizes and helps relieve the feeling of tired feet. It is an effective formula that softens and renews foot skin to prevent cracks and splits. Your feet will be left feeling noticeably softer and smoother. You would love to know these 10 Simple Ways to Keep Your Feet Soft and Smooth.
Directions For Use
Apply it generously to clean feet morning and night, paying special attention to soles and heels.
Review
It comes in a plastic tub packaging with a tight & protective lid on. There is no leakage or product and is travel-friendly, which is a plus point. Most important thing when it comes to packaging is the Labels & Information. And Gladly, it has every information on its label which is required such as price, weight, ingredients, contact information, symbols such as cruelty-free, natural, ISO & all other symbols.
It has a dominating fragrance of peppermint and camphor which can be overpowering for those having a sensitive nose but can be refreshing for those who prefer electro-shock fragrances. The cream is mild, baby pink in color with smooth creamy texture. Easy to apply and doesn't get collected at one place.
It has a perfect consistency & creamy texture which doesn't add any extra oily or greasy layer. It perfectly moisturizes the area and works effectively within two to three days. Aloe Vera & Vitamin E help improve the skin texture. Even those who are facing heavy dry cuts on heels & excessive dryness issue near fingers will notice the change within three days.
It not only heals the cuts but also improves the skin color. It fights the darkness, tanning & dullness which is a result of hectic work schedule. The area around nails is much improved after using this pedicare cream. Most of the time, I faced excessive oiliness issue after using foot care creams which doesn't get absorbed easily and because of that, I've to wait 10-20 minutes so that my skin can absorb the cream. But with the

Fuschia Foot Care Cream

, there is no such issue as it gets absorbed within minutes so even if you are in a hurry, you can rely on this one.
I use it two times a day, that is after taking shower and before going to bed. I didn't feel any greasiness which I love about this product. There are many foot care creams which claim to reduce dry heel cuts within a week but honestly, I haven't noticed any change after using them. This is the first time that I'm satisfied with a foot care cream.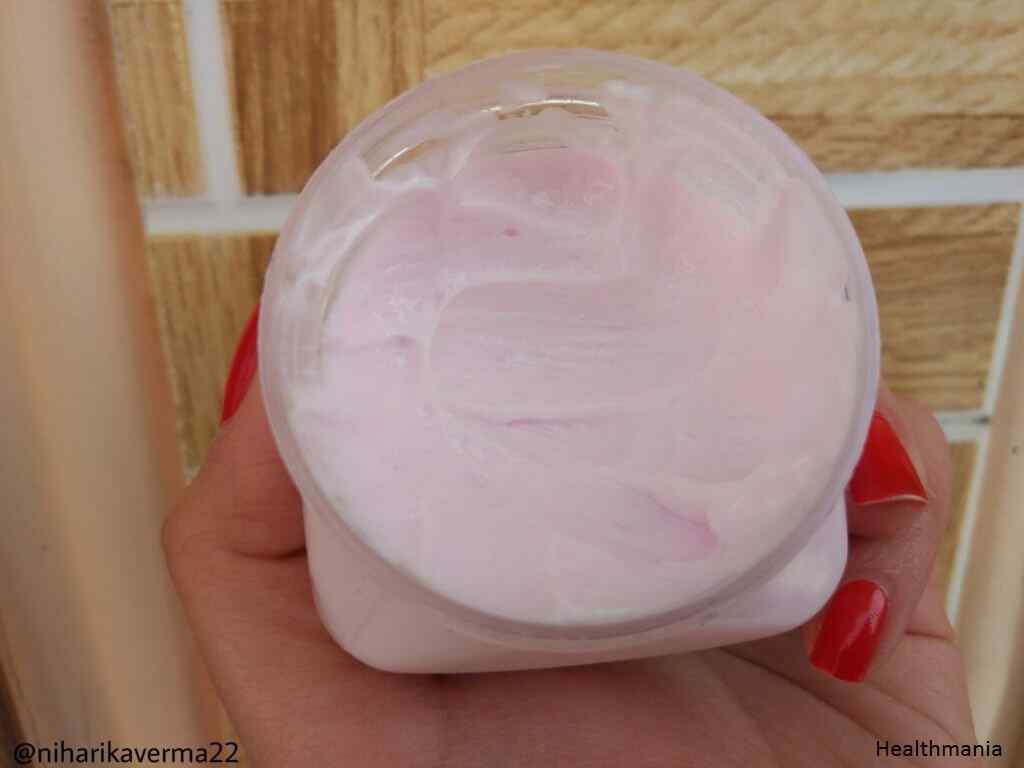 Not only this particular cream, their whole range is effective and actually works. I use their Dazzle Face Mask Daily before going to bed which works on severe pimple & acne issues. Made from Camphor, sandalwood & Saffron, it brings on the natural fairness & radiance. Even their Scrubs & lotions work effectively. The best part is, their products are suitable for all skin types and are unisex.
Coming back to the product, So if you are facing dryness issue, tanning or are looking for general foot care. This is the best option for you available in the chemical-free range.
You can buy it on Amazon
Pros
Natural Product
Safe Packaging
Cruelty Free
Get Absorbed Easily
SLS (Sodium Laureth Sulfate) Free
Paraben Free
ISO Certified
Improves Skin Texture
True to the Claim
Cons
Available only Online
Price
Price: Rs.400/- for 190 GM
Even after using this highly effective foot care cream, if you face severe dryness issue & are unable to recover your cracked heels. Follow the below mention tips to fasten the improvement process 🙂
How to do Pedicure at Home Naturally
Use

Pumice Stone

while bathing on alternate days. This will help you to get rid of dead cells around heels and will help in developing new cells.
If looking for at home remedy, then massage your feet with sesame and sandalwood oil until the skin has absorbed most of it.
Have a balanced diet & drink at least 2-3 litres of water daily.
Exfoliate your feet once a week. This will improve the blood circulation & will remove all the dead cells in an effective way.
If your routine includes standing work, wear socks and shoes to cover the heel area most time of the day.
These are few methods which will help you to get rid of cracked heels. Home remedies do take time but their results last longer. It is rightly said that if you are following home remedies, you have to keep patience as it may take some time to get the results. Hope this post will help you. 🙂 Stay Tuned for more 🙂 Take Care.
Don't forget to share your experience with us after using Fuschia Peppermint Pedicare Cream, in the comment section below. Stay Beautiful 🙂
Recommended Read: Acupressure Points For Common Diseases and Body Pain