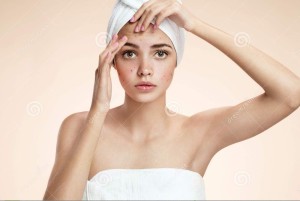 Teenage!! The phase of life we all waited for badly when we were in our childhood. We waited for the freedom and excitement which teenage brings along with it. But the list of gifts presented when we enter teenage doesn't ends here. It continues with having pimples on the top. Since teenage I had been haunted by pimples. But this trend has recently put to an end since I have hot my hands on these superb homemade face packs.
Pimples are nothing but pus and bacteria filled swelling that can occur usually on face, neck or shoulders. Face is most prone to these ugly outbreaks and once they fade away, they leave their sign of invasion in form of ugly scars that make you look less attractive and beautiful. Though the market is flooded with lots of products that promises you to get a clear skin free of pimples and their scars, but what is better than a homemade face pack which is both free of chemicals and pocket friendly.

1. Face Pack of Fenugreek Seeds with Rose Water for Pimples Marks

Enriched with anti-bacterial and anti-inflammatory properties, Fenugreek seeds are one of the powerful weapon to fight with pimples and helps in fading away dark marks and acne scars. When applied regularly, it leaves the skin clear and soft.
Method
Make a fine paste of overnight soaked fenugreek seeds in a blender.

Add to it 2tbs of rose water and apply on your face on the affected areas.

Keep it for 20 minutes and wash away with cold water.

2. Tomato and Honey Face Pack for Acne Control

This face pack helps you get a clear skin by clearing excess oil and impurities. While honey is beneficial in preventing acne breakouts, tomatoes help in protecting your skin from sun damage and premature wrinkles. This face pack is very effective in reducing pimple marks.
Method
Make a paste taking half ripe tomato and a little water.

Add to it 1tbsp of honey and mix well.

Apply the paste on the face in the form of a fine layer and allow it for 15 minutes to stay.

Wash away with cold water and pat dry.

3. Neem Face Pack for Acne

Neem has been known for decades for its amazing skin benefits among which one is its anti-bacterial properties that controls occurrence of acne and helps in curing them.
Method
Pick out some Neem leaves and grind them to make a thick paste.

Add a few drops of rose water while making the paste.

Before applying the pack allow your skin pores to open up by cleansing and steaming your face.

Apply this paste on your face and wash away after 30 minutes using lukewarm water.

4. Besan and Turmeric Face Pack

Get a clear and spotless skin with this face pack. It is not only beneficial in clearing pimple marks and blemishes, but also lightens skin tone and make the skin look bright and luminous.
Method
Make a fine paste taking 2 spoonful of besan (chick pea flour), ½ table spoon of turmeric and sufficient amount of yogurt.

Apply this paste on your face and leave it to get dry.

When it gets dry completely, dampen your face and scrub your skin using finger tips.

Wash off with normal water and enjoy soft and healthy skin.

5. Honey and Lemon Face Mask for Pimples

Get rid of scars and pimples with this honey and lemon face pack. Lemon being acidic and citric in nature bleaches your skin and honey on the other hand acts as a powerful agent that prevents acne to occur and clears the skin of pimples.
Method
Squeeze half of lemon and apply the juice on face after washing it with a mild soap. If you have a sensitive skin, add some rose water to the juice.

Follow the first step with honey after a gap of 15 minutes.

Rinse with normal water after 10-15 minutes.