A fair and glowing skin is what we all are mad for. We are so crazy to get flawless and glowing skin that whatever the product claims to offer these, we instantly invest our hard earned money without giving a second shot to the thought. Your skin is not just an outer covering that protects you from outer damages, but a live organ that needs to be pampered and taken care of. A glowing skin is the reflection of it being healthy and a most visible expression of being beautiful.
Our lifestyle and daily habits pose a great effect on our skin and determine its texture and quality. Whatever skin care product we use, our eating habits and exposure to sun leave their effect on our skin in one way or the other.
If you pledge to make a few changes in your daily routine and follow a healthy skin care regimen, you will surely be going to achieve your goal of glowing, healthy and beautiful skin. With these easy to follow tips, it will be no longer hard for you to look and feel beautiful while boasting a flawless, glowing skin that attracts anyone instantly.
 HealthMania Recommended Best Skin Glowing Cream – Buy Now
Follow a Nutritious and Fiber Rich Diet Plan
The mantra to stay healthy is to eat healthy. A bad digestion apart from giving birth to health problems also leads to skin impurities. Hence it becomes essential to have a balanced diet including proteins and vitamins in right proportion. Instead of feeding on processed food stuff, feed your belly with fresh and juicy fruits and leafy veggies in order to make your skin glowing.
HealthMania Recommended Diet Plan Book – Buy Now
 Drink As Much Water As You Can
Water constitutes 15% of our skin and hence its effect cannot be denied. Drinking 2-3 liters of water a day help your skin to have free hand from all sort of impurities. Daily at least 2 liters of water keeps the skin hydrated and allows you to experience a bright and glowing reflection in your skin.
Keep Skin Protected From Sun Exposure
Though the sun is a good source of vitamin D, but leaving your skin exposed to sun radiations all the time is not an idea to be applauded. The harmful UV radiations not only cause damage to skin texture but also leave it prone to skin cancer. So make it a habit of covering your bare skin either with a piece of cloth or a layer of sunscreen whenever you step out
.
  HealthMania Recommended Best Skin Glowing Cream – Buy Now
Know Your Skin Type
Different people have different 
skin types
. Before using any product make sure about what type of skin you have. Knowing your skin type will help you to decide which product is to be included in your skin care regimen and which is required to be avoided.
Ensure Complete Hydration of Skin
A dry skin is the mother of aging, wrinkles and itching. Washing your face is a good idea but doing that more than twice can make it deprived of natural oils produced by the skin and leave it feeling dry.
  HealthMania Recommended Best Skin Glowing Cream – Buy Now
Get Familiar with Exfoliation
While taking care of skin, our attention is generally focused on cleansing, toning and moisturizing and while doing so we drop the idea of scrubbing or
exfoliation
in a side bucket. As per skin experts, exfoliation is as important as any other step mentioned here. Regular exfoliation employing natural ingredients like oats, gram flour, or orange peel is the best way to make your skin free of dead cells and unleash a glowing skin.
Indulge Toner in Your Skin Care Regimen
While following basic skin care tips that include cleansing, toning and moisturizing, we often forget about toning.
Toners
are supposed to be applied immediately after cleansing as it ensures deep cleansing and reduces size of pores that get opened during cleansing.  It is loaded with
humectants
effect, preventing the skin from getting dry.
  HealthMania Recommended Best Skin Glowing Cream – Buy Now
Never Sleep with Makeup On
Like you need to breath to stay alive, in the similar way your skin also needs its own proportion of fresh air to stay healthy. Makeup has become an inseparable part of today's women as it helps them to look radiant and gorgeous. Makeup products are often loaded with chemicals that are harsh on skin and leads to clogging of skin pores. This gives rise to rashes, pimples or acne. So get into a routine of removing powder, foundation, kohl or lipstick before directing towards your bed.
Lower Down Stress Level
Stress is a devil not only for your health but also for your skin. Taking proper rest is the key of having a healthy and flawless skin. Night is also a time when the skin cells actively participate in the process of regeneration. So stay stress free and follow a healthy sleep routine to gain a glowing skin you are longing for.
Sweat a Lot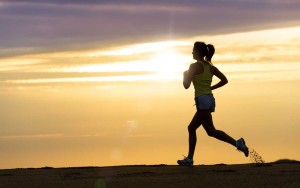 Physical activeness is not only essential to stay fit but also helpful in keeping the skin healthy and glowing. Physical activities such as aerobics, jogging or exercise enhance flow of oxygen rich blood to the skin cells. This helps in counterbalance the effect of
oxidative stress
and also carries impurities and wastes away from the cells.